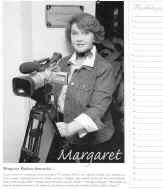 Summit Women are exceptionally talented and gifted. TV producer, Director and songwriter-recording artist, Margaret is a classic example. Embracing her love for children and music, Margaret single-handedly
inspired and then launched International Children's Day which is celebrated around the world, each year on June 1. According to Margaret:
"Music follows us from the moment we are born to the moment we die, from joy to sorrows, from a mother's lullaby to hymns at funerals".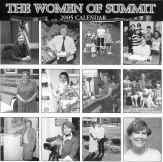 SUMMIT OBSERVER- Thursday, October 28, 2004 (excerpts)

CALENDAR RAISES FUNDS FOR PROJECTS
By Joan M. Devlin -Staff Writer

A calendar is something we all need, usually at the start of a new year. But Summit, has a very unique calendar- for the second year in a row- which has become a fund raiser from "The Other Fellow First Foundation."
This year it features some special women of Summit, on every month's page, chosen by an anonymous group of men from the foundation, all businessmen of Summit. At $19 each, every cent from the sale of the calendars goes to help families in distress. (...) Gracing the cover is founder and head of the Community Food Bank, Kathleen diChiara, who started the Hillside food bank 29 years ago. (...)
Phyllis Sank, Master Plan specialist and dedicated city volunteer, is Miss January, while Producer Margaret Paslaru-Sencovici, grace the month of June appropriately, as she is the founder of Summit's Children's Day, celebrated on June 1. Head of her own "M"Soul Productions, she works for Cable Channel 36, and has dedicated many shows to children's causes.

Sandy Bloom and Susan Hairston, current and past presidents respectively of the Board of Education share the month of September as calendar women. Councilwoman Cindy Martin is Miss November. while a busy mom, Courtney Zanelli and her four boys shares the month of May, for Mother's Day. (...)Calendar purchases and/or other donations for The Other Fellow First Foundation are tax deductible.

Last year, the calendar made its debut, featuring the men of Summit; among them, former Mayor Walter D. Long, current Mayor Jordan Glatt, and Jim Greberis and John Anastos, the owners of the Summit Diner, which is also the headquarters of the foundation. It was a big success, and this year again, the sale of the calendars is already under way.