The Star Ledger - Thursday, June 14, 2001
Children's Day makes its U.S. debut in Summit
(Selections)
By Patty Everett
FOR THE STAR-LEDGER
Margareta Paslaru-Sencovici didn't grow up with the question on her lips that millions of children ask each year around Mother's Day or Father's Day:"Why isn't there a Children's Day?" So she never heard the pat answer that has passed from generation to generation:"Because every day is Children's Day."
Instead, the Summit resident heard songs in the streets of her native Romania on June 1st - the day that there, and in other parts of the world, is officially known and celebrated as International Children's Day. "This was a very joyful and simple kind of celebration,"Paslaru said. "There was a ballon parade, songs and dances and arts and sports." In short, is was a celebration akin to that of a child's birthday party - similar, in fact, to two recent events she was the impetus behind at Overlook Hospital in Summit. Althogh the day is celebrated in roughly 25 countries, it's "a day that is missing from the American calendar," said Paslaru, who aims to get the day officially recognized on the national level. Locally, Paslaru has obtained proclamations from acting Gov.Donald DiFrancesco naming June 1st International Children's Day in New Jersey as well as from Summit Mayor Walter Long. The latter was on hand for a party at Overlook's day-care center May 31. The next day, there was an other party for patients in the hospital's Pediatric Activitty Center. "I think it's a wonderful idea" said Christine Manning, a child life specialist in the Pediatric Activitiey Center. Manning was on deck both days to help set up the parties, which included food, a clown, a magic show, face-painting, games, prizes and giveaways.
(...) A registered nurse in the hospital's pediatric unit, Palmarozzo agreed that a special day for children was a "neat idea," despite having been told numerous times by her mother that every day was Children's Day. Lisa Ciarrocca, child life manager for Atlantic Health System -of which Overlook and Morristown Memorial Hospital are a part - said she will honor the day every year in all of Atlantic's pediatrics units. Simultaneous with with the June 1st event, Morristown Memorial's child life program was holding its own gala to mark the day, said Coarrocca, who brought along her daughter, 21 month old Callie, to join the festivities.

(...CONTINUED FROM PAGE ONE)
The parties at Overlook were among a number of events planned around International Children's Day. One of them, a used musical instrument drive benefiting children from the Kids Kafes of the Community FoodBank of New Jersey, was the brainchild of Summit Councilwoman Joyce Margie, Paslaru said. "I started composing a special song for June 1, and next year it will be performed by children who received the musical instruments," Paslaru said. "All of this is going to be recorded on a CD, and the monies will go to a special Children's Day music camp for the needy." Scotti's music store has promised to launch the CD in its four stores in Summit, Gillette, Morristown and Madison. In addition, the Romanian-born actress and pop star is using her expertise as a producer/director for Channel 36 to promote the day. Footage she has taken for a documentary that features children from 12 New Jersey localities will be used as the "archives"of the June 1 International Children's Day in the United States, she said. During her efforts to reach out to all 50 states, Paslaru has received feedback from people in Omaha, Nebraska and Portland, Oregon who have planned events for the day. In San Francisco - where the day had its roots in 1929 - Mayor Willie Lewis Brown Jr. has proclaimed June 1, 2001, as International Children's Day. Paslaru said she dreams that marking the day and bringing more attention to the children might help to avoid the senseless violence now taking place across the country. "I trully believe that the way we are raising them today is the same way they are going to lead us tomorrow. I truly believe that they are a reflection of us...and if things go wrong, we have to wonder why."
The Summit Collection- July 2001

International Children's Day Is Official in Summit!

By Susan Smith
"Whereas, this holiday should be recognized by everyone, regardless of their political affiliation, religious preference, organization membership, or school, and "Whereas, now more then ever, when violence and tragic events in schools are taking place with increased frequency, we should all reflect about ourselves and about our children.
Now, therefore, I, Walter D.Long, Mayor of the City of Summit, do here proclaim June 1, 2001, as "INTERNATIONAL CHILDREN'S DAY" in the City of Summit and ask all citizen to take a moment to remember the children and consider them as we go about our daily activities and present ourselves as good role models."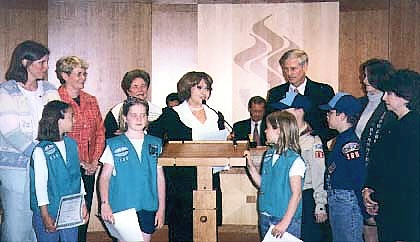 L-R:Karen Honold, Scout Leader, with Girl Scouts from Troop 135 Cub Scouts from Pack 360, Gail Callahan, Gail Everling, Mayor Walter Long, Joyce Margie, and Joanne Tedesco-Kloud join Margareta Paslaru-Sencovici at the microphone as she accepts the Mayor's Proclamation for International Children's Day in Summit.
June 1st-International Children's Day-was celebrated in Summit at a party hosted by Overlook Hospital and Lisa Ciarrocca, child life manager for Atlantic Health System, on May 31st in their day-care center and on June 1st, in the Pediatric Activity Center.
As reported in our May issue, Summit's Margareta Paslaru-Sencovici, TV36 director, recording artist, and mother, has been working for ten years to bring equal attention to all the children by celebrating them and their spirit on June 1st. All her dedication, persistence and hard work has finally paid off! Proclamations have been signed by Mayor Walter Long, as well as Mayor Willie Brown Jr.of San Francisco, where this day was first celebrated in the U.S.in 1929, and acting Gov.Donald DiFrancesco, naming International Children's Day as a day to be celebrated on June 1 in their respective communities.Margareta is working hard to get this day recognized on a national level. Rumor has it there may be some progress toward this end even as we speak! We will keep you posted.
The thrilling thing about Paslaru-Sencovici's efforts is that something wonderful and tangible and on-going has come out of it. In addition to the official day of observance, Summit councilwoman Joyce Margie, who has been championing Paslaru-Sencovici's dream. has spearheaded a "gently used"
musical instrument drive for the needy children. Burgdorff Realtors Joanne Tedesco-Kloud arranged for their Springfield Ave.location to be a drop off spot, and John W.Cooper of Summit Area Public Foundation has established a fund to sponsor a June 1st Music Camp for the needy kids."The Summit Ladies" (weekly volunteers at the Community Food Bank of NJ)will collect the instruments from Burgdorff and take them to the Community Food Bank to be dispersed to needy children. It is Margareta's hope to complete a special song she is composing for International Children's Day, then have the children practice on the instruments, and hopefully record and produce a CD that will be available for purchase by December, 2001!.The net profit from the sale of this recording effort will go towards the music camp. Scotti's Record Shop has promised to be part of the launch by promoting it in their 5 locations!

Summit should be proud of the selfless efforts of this special woman-a woman with passion and love and desire to make a difference in the way we raise our children. Her dream is to put an end to the senseless violence we heard and read about in this country on practically a daily basis. "I truly believe that the way we are raising our children today is the way they will lead us tomorrow"

Mark your calendars now for June 1st International Children's Day 2002! We will keep you abreast of the planned activities as they evolve. To become involved contact "M" Soul Productions, 908-273-4729, www.margareta.com

Resident seeks to celebrate children
(Selection)
By Joan M. Devlin
Staff Writer
Her Dream is to honor children: all children everywhere, with an established International Children's Day, and she has worked for years to make the dream a reality. Summit resident Margareta Paslaru, Romanian-born entertainer and current head of "M" Soul Productions, wants June 1 of every year to be Children's Day, set aside in the same way that Mother's Day and Father's Day observed. "We need to bring more people into participation for the International Children's Day of June 1st because it has already been set aside by many other countries all around the world," said Paslaru. She is not just wishing for this: she is working through her own company and also with Arlene Sullivan and Mary Ann Martello of Changing Images Art Foundations Inc., who as a committee will reach out to all 50 states to involve them in the day of recognition. Paslaru also is known in Summit as the director/producer of TV-36, which covers Common Council meetings among many other events in the City of Summit. She and Sullivan and Martello will combine creative talents in the promotion. Paslaru loves to read stories to children, and volunteers at Overlook Hospital once a week to do just that, to make sick children smile. She acts out the stories as she reads, using her backround as an actress/singer in Romania." Children are the same all over; they love this."
(……) In 1996, Paslaru received an honorary award and membership to UNICEF for her promotion of music and art for the protection of children. Her philosophy is simple. "When we are young, we struggle to make a name for ourselves: becoming mature, we must use the name in helping others."
(…….)She insists, however, that this promotion of an International Children's Day does not involve money; only recognition. She is creating a series of documentaries about International Children's Day to begin airing this spring, and is writing the music for a special children's song, inspired by Sullivan's children's book entitled 'The Journey of Hanna Heart," and Sullivan is also creating a mural.
(……) "However, the main object of our committee is to gain support from people throughout the United States so that we can add our country to the expanding list of those countries who already celebrate June 1 as Children's Day," said Paslaru. She encourages ideas and events that others may create. She and her associates have contacted the school boards and everyone is asked to join in special events on that day. She has requested Summit Mayor Walter Long to proclaim June as Children's Month, which he has promised to do at the 17 April Common Council meeting. For information about ways to participate in the activities, or to bring your own ideas to share, call Paslaru at 273-4729 .
Independent Press – April 18, 2001
Paslaru helps organize Children's Day
(Selection)
By Timothy Jecko
AREA – Margareta Paslaru has a knack for making news. Perhaps she was born with it. This time, she's taking on Alaska, Hawaii and all the contiguous 48 states as she attempt to bring us into line with more than 25 countries already observing the June 1st celebration of International Children's Day. Ms. Paslaru, a Summit resident for 18 years, is a formidable force when it comes to stirring up excitement in local or international media. Born in Romania, she became a pop music star as a young woman, successful as a singer, songwriter, and lyricist in 13 languages. The den of her deceptively tranquil home overflows with photographs, citations, posters, clippings, scrapbooks and other mementos of her impressive career. One can imagine the energy which she must have generated in those days. To anyone near her colleagues race to keep up with her production schedule, her driven and ambition are sometimes overwhelming, certainly anything but diminished. "When we are young" she admits, "we struggle to make a name for ourselves. Becoming mature, we must use the name in helping others." No one, it seems, is immune to her rapid-fire, all-encompassing enthusiasm. "Nobody I have spoken with knows about the Children's Day celebrations , "she said recently, "or the fact that is started in the United States, in 1925. On June 1st of this year, in Monterey Heights area of San Francisco, Wang Yunxiang, the Chinese consul general, gathered 60 former Chinese orphans and their families to celebrate one of China's most popular holiday. That same year, perhaps coincidentally, representatives from 54 countries attended the World Conference for the Well Being of Children in Geneva, Switzerland, and passed the Geneva Declaration protecting children. " It is from these events that the international observance evolved," she said, "and its beginnings are described in 'A Children's Day Gift,' by Evelyne McNamara. I have been working for 10 years to bring Children's Day to USA," she continued. "It seems natural to me; I grew up with it." Ms. Paslaru, the founder and entire staff of her umbrella organization, "M" Soul Productions, is also the creator and resident director, producer, editor, crew, camerawoman, prompter and on camera spokesperson on the series "Human Mosaics" on cable station TV-36. In it, she showcases the importance of local artistic, cultural and humanitarian pursuits Not surprisingly, she's using her show to promote International Children's Day in the USA, her latest project. Her efforts are gathering steam, and for this project she has help, in Arlene R.B. Sullivan and Mary Anne Martello of Changing Images Art Foundation, Inc. The goal of Changing Images is to bring comfort to people, young and old, who are in traditional institutional settings, such as hospitals. "Through interactive art activities with patients and volunteers," says Ms. Sullivan, "we are able to transform bleak empty walls into colorful surroundings, leaving each facility with professional-looking murals that they have helped create." The idea of involving everyone-patients, residents, family members, medical staff, volunteers-is" medicine for the soul". "They are painting beautiful murals for Children's Day," says Ms. Paslaru of her partner's efforts, "with children from different schools," including the Cedar Hill Elementary School in Towaco, and Bayley-Ellard High School in Madison, whose work will be exchanged with a mural from a hospital in Bucharest.
In addition, Ms. Paslaru is composing a special children's song for next year's celebration dedicated to
June 1st. The CD containing the song will be on sale at all Scotti's Record Shops, with proceeds donated to a special fund to help send less fortunate children to a summer camp. "People from all parts of the country are invited to join in a simultaneous spirit-of-solidarity celebration of children, "says Ms. Paslaru. "The activities need not be extravagant; it could be something as simple as a song, a dance, a sport activity , or volunteers reading to children in a library or a hospital. It could be activities that are already on the calendar, which might be re-scheduled, or at least dedicated to the weekend of June 1st."
"The Summit Collection"
May 7, 2001
By Susan Smith
If you see pink and blue balloons outside the merchant's stores in Summit during the first week in June, it is not because the stork is making a guest appearance! It is Summit celebrating International Children's Day.Romanian-born singer, composer and 18-year Summit resident, Margareta Paslaru-Sencovici has been trying to promote International Children's Day in the USA for years. In over 25 countries, it is observed on June 1st. Margareta remembers balloons parades as a child in her country, and with the help of Arlene Sullivan of Changing Images Art Foundations, Inc. is getting the ball rolling here by inviting all the governors to support this request to make June 1st an official holiday. Many have jumped on the bandwagon, including Summit's mayor Walter Long who declared that June 1st would be set aside in Summit for International Children's Day. The kick off ceremony will be held at Overlook Hospital's day care center on May 31. Pediatric Director Lisa Ciarrocca, children, patients, staff, Margareta Paslaru-Sencovici, councilwoman Joyce Margie, and Mayor Long will sing, read poetry and paint to celebrate the spirit of children.
Don't miss "M"Soul Production's (Paslaru-Sencovici's company) film documentaries, "Human Mosaics" and "Summit's Rhapsody," on TV-36 and 57, highlighting children's activities performed all over New Jersey, in honor of International Children's Day.
Thursday, May 31 – 2001 "Summit Observer"
Drive gives needy children the gift of music
By Joan M. Devlin - Staff Writer
"We must give them food for their spirit as well as food for their stomachs, as music heals: it is a wonderful outlet for troubles and anxieties." –
Margareta Paslaru

The Used Musical Instruments Drive is just one part of all the special events planned to celebrate International Children's Day on Friday.
Margareta Paslaru, producer/ director of Channel 36, had the idea of giving needy children musical instruments, along with the other events she is spearheading on Children's Day. Mayor Walter Long made in official at the last Common Council meeting when he actually declared June 1st "International Children's Day in Summit"
"We are asking everyone in Summit to go into their attics, store rooms and closets to find a used musical instrument they no longer use or play, but which would bring great joy to a child who can never afford to buy an instrument, "said Paslaru. The gift of music will feed the hearts of children who are needy, and who are cared for through the Children's Division of the Community Food Bank of New Jersey in Hillside.
(…) The used musical instruments of all kinds will be donated and distributed through the Kids' Cafes, and after school program for inner city children. A group of Food Bank volunteers will pick up the instruments each week and take them down to the Food Bank in Hillside; among them Councilwoman Joyce Margie who volunteers at the Community Food Bank every Friday . Paslaru, who was an actress/performer in her native Romania, and still performs on occasion will be donating her time and talent to work with the children in the Kids Café program to help them develop their musical abilities.
(….) Each café feeds a hot nutrition evening meal five days a week at absolutely no cost," said Meara Nigro, communication director at Community Food Bank.
(….) Now, beginning in one of the Newark sites, they also will be able to receive and learn to use musical instruments. Paslaru will be there to personally instruct, help and encourage them. "It will be light music; whatever they are comfortable with and now we have the instruments to make a band, and study, and experience the joy that music can bring"" Transporting the instruments once they are collected at the various locations will be handled by a group of Community Food Bank volunteers affectionately called "The Summit Ladies," because they are always at the center in Hillside on Fridays. In adition to Margie, there is Pat Steadman, Gail Callahan and Mona Baldwin.
Everyone is sharing Paslaru's enthusiasm on the project, including Board of Education President David Bomgaars who came to tell them that children in all grades took memos home asking parents to send them back with used musical instruments they no longer need. "In fact, I will bring in my own old set of drums," said Boomgaars.
"There is a strong connection between students who participate in music and their academic achivement".
(Front page selections)